Try dairy foods to reduce the burn and hotness of eating chile peppers. Capsaicin in chile peppers stimulates pain receptors in your mouth. Caesin, the main protein in milk, washes away the capsaicin that makes your mouth and throat burn. To tone down the heat, remove the seeds and inner membranes of hot chiles. Handle hot chiles carefully. Use rubber gloves if you have sensitive skin, and never touch your eyes or face when handling them.
Continue Learning about Cooking & Health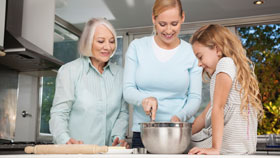 Most Americans don't prepare meals from scratch, and many eat out frequently. Reconnecting with food by cooking it can improve not only taste but health. How you cook can make a difference not only to taste, but nutrition. Boiling ...
broccoli or cabbage can destroy antioxidants. Microwaving or cooking on a griddle can preserve them. Stir-frying can be a good, quick way to prepare food too. Frozen and fresh vegetables have similar nutrient levels (not always similar taste). Canned foods do not. Some foods require adequate cooking time to ensure safety. If you think you don't have time to cook, a little planning can go a long way. Veggies may be pre-cut when time permits, and beans or pasta can be prepared in advance without loss of flavor or nutritional value. Many recipes may be modified to lower fat or sugar variations.
More