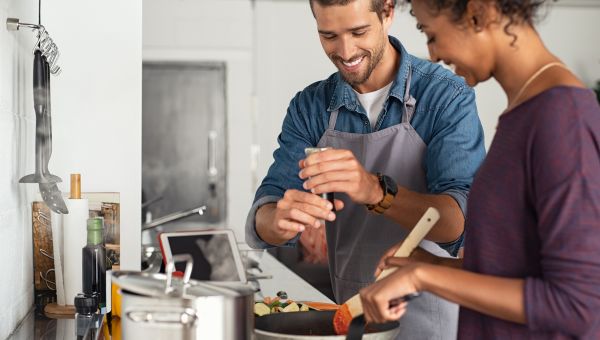 Cheat Sheet for Low-Sodium Cooking
Follow this quick checklist of sodium-slashing food-prep ideas every time you make a meal and you could be enjoying better blood pressure before you know it. These tips are based on recommendations from the U.S. Department of Health and Human Services; the National Institutes of Health; and the National Heart, Lung, and Blood Institute.
Step 1: Read, read, read.
Check all labels before food preparation so you know how much sodium you're starting with.
Try to stay below the RealAge-recommended limit of 1,500 milligrams per day.
Always buy the low-sodium versions of prepackaged, frozen, canned, or jarred foods and sauces.
Opt for fresh veggies over canned.
Make things from scratch when you can, to control the sodium content.
Step 2: Reduce, reduce, reduce.
How many ways can you cut the sodium from your food?
Rinse canned foods before using.
Don't add salt to the water when you boil pasta or rice.
Ditch the flavor packets that come with instant or prepared foods, and do your own seasoning.
Choose fresh whole cuts of meat or fish over processed, pressed, cured, or canned.
Step 3: Season, season, season.
Get creative with fresh flavors so you won't feel tempted to grab the saltshaker.
Choose fresh herbs and salt-free spices instead of salt.
Use herb- or citrus-infused oils, avocado mash, or malt or cider vinegars instead of salty condiments like barbecue sauce, ketchup, and soy sauce.
Try oil with red wine vinegar or lemon juice instead of salty salad dressings.
Season lean animal protein and veggies with onions, mushrooms, garlic, peppers, and other fresh, savory flavors.
Stuff fresh, crunchy veggies into sandwiches or wraps, instead of pickles or olives.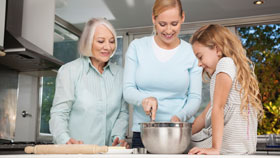 Most Americans don't prepare meals from scratch, and many eat out frequently. Reconnecting with food by cooking it can improve not only taste but health. How you cook can make a difference not only to taste, but nutrition. Boiling ...
broccoli or cabbage can destroy antioxidants. Microwaving or cooking on a griddle can preserve them. Stir-frying can be a good, quick way to prepare food too. Frozen and fresh vegetables have similar nutrient levels (not always similar taste). Canned foods do not. Some foods require adequate cooking time to ensure safety. If you think you don't have time to cook, a little planning can go a long way. Veggies may be pre-cut when time permits, and beans or pasta can be prepared in advance without loss of flavor or nutritional value. Many recipes may be modified to lower fat or sugar variations.
More