If food has been your primary source of pleasure, parties can be a huge challenge. At a party, everyone is in a festive, devil-may-care mood, food and drinks are flowing, and people are busy meeting, greeting, and gabbing.
A plan to avoid overeating can be as simple as "I will limit myself to healthy food and reasonable portions." It can be something you pen the day before or commit to five minutes before you leave for the party. If you can create a rule to establish a reasonable portion -- and stick to it -- by all means, allow yourself some cheese puffs. The bottom line is: Either limit or abstain from pleasure food unless you've decided to let loose and entertain yourself with it, and then eat it only if you're willing to accept the consequences of that choice.
Here are two suggestions for making a party plan. I've found that the first one is easier to implement:
Decide ahead of time that this party is not an eating event for you. Either eat ahead of time or plan to eat afterwards.
Decide ahead of time to eat at the party, but to eat only the foods and portions that you designate. You may not know what will be served, but there are often crudités or a salad available, so you'll probably have some healthy options. Put your food on a single plate and limit your party eating to only what is on that plate -- that food and nothing more.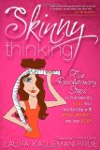 There are several strategies you can use to avoid overeating anywhere.
Do not arrive to the party hungry. This leads to poor choices and loss of control. Instead, have a protein and fiber-rich snack like a whole wheat pita stuffed with lean lunchmeat and veggies , an apple with a few nuts or a bowl of high-fiber cereal.
Control portion sizes of high-calorie dishes like mashed potatoes and macaroni and cheese. Fill at least half your plate with salad, fruit and veggies; a quarter with lean meat or beans; and the final quarter with your favorite holiday dish. Use a small plate, which will help you eat fewer calories.
Eat slowly, savoring each bite and then wait 20 minutes before going back for more. This will give you enough time to sense that you're satisfied.
Stay away from the serving table. Once you get your food, go into another room so you don't see the food. When the food is out of your eyesight, you're less likely to eat mindlessly.
If you've prepared or ordered up a large spread, enjoy only one appetizer at a time. You'll savor the different dishes instead of gobbling it all up at once. You'll give your body more time to realize there's probably more food on the table than it should be consuming.
This content originally appeared on
doctoroz.com
Continue Learning about Controlling Appetite