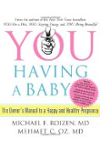 Some women can just "tell" if they're pregnant. Maybe they have gut feeling, or maybe their bodies just feel a little bit different-their breasts may feel more tender, or they may have immediate aversions or cravings for food. But the only way to confirm pregnancy is through the identification of the hormone hCG in either blood or urine.

The blood test is done in the doc's office, of course, and the urine test can be done at home. But hCG doesn't show up in blood until about 10 to 14 days after conception, and a standard urine pregnancy test may not even show as positive for up to four weeks after conception. So it's possible you won't know for sure until at least after you've missed a period. If you just can't wait, high-sensitivity home urine tests can give results between 7 to 10 days after ovulation-potentially before you've missed a period.

Both standard and high-sensitivity urine tests are highly accurate. For home tests, use the first morning's urine (the concentration of hCG is higher), and wait 5 to 10 minutes for results.