Why does drinking red wine help reduce inflammation and pain?
Some studies suggest that resveratrol, a natural compound found in more than seventy plants, including grapes and berries, protects against oxidation and fungal infection caused by external stresses such as temperature extremes and ultraviolet light. Resveratrol is found in high concentrations in red wine, though its levels may vary depending on the particular wine. Scientists have identified resveratrol as a powerful antioxidant, more potent than vitamin E, and conclude that it may protect against cancer and heart disease.

While we lack solid evidence showing resveratrol's effectiveness in natural dietary supplements, we do have substantiation that resveratrol works in red wine. Researchers have also found that resveratrol blocks the activation of the COX-2 enzyme, the real culprit in igniting inflammation and pain in the body. Some believe that resveratrol may turn out to be an improvement over aspirin in treating painful diseases associated with COX-2, such as osteoarthritis.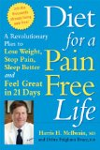 Continue Learning about Heart and Circulatory System
Your circulatory system is made up of your heart and three main types of blood vessels -- arteries, veins and capillaries. Your heart is at the center of the system, acting as a pump to distribute nutrient- and oxygen-rich blood t...
hrough your body; it then takes away carbon dioxide and other waste your body doesn't need. Signs of poor circulation include cold hands and feet, numbness, dizziness, migraines, varicose veins and pain in your feet or legs. Untreated, poor circulation can lead to stroke, high blood pressure, kidney damage and other diseases. Learn more about your heart and circulatory system with expert advice from Sharecare.
More