Maternal-Fetal Medicine physicians are specialists in the OB-GYN field. They receive 3 additional years of schooling in high-risk obstetrics, in addition to the 4 years received in residency. They are experts in managing/treating women with pre-eclampsia, diabetes in pregnancy, and pregnancies with more than one baby.
Maternal-fetal medicine physicians (MFMs) are subspecialists in the ob-gyn field. After completing medical school and the standard four-year ob-gyn residency training, MFMs get an additional three years of training in complicated obstetrics. They are experts regarding how certain medical conditions affect pregnancy and birth and often assume care of women with serious conditions such as diabetes or heart disease.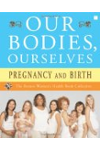 More About this Book
Our Bodies, Ourselves: Pregnancy and Birth
ALL THE INFORMATION YOU NEED TO MAKE WISE DECISIONS ABOUT YOUR PREGNANCY AND THE BIRTH OF YOUR CHILD -- FROM THE EDITORS OF THE CLASSIC "BIBLE OF WOMEN'S HEALTH" Pregnancy and birth are as ordinary...
Continue Learning about Choosing A Practitioner & Pregnancy