Primary teeth typically begin to appear when a baby is between age six months and one year. A child's primary teeth, sometimes called "baby teeth," are as important as the permanent adult teeth. Primary teeth help children chew and speak. They also hold space in the jaws for permanent teeth that are growing under the gums. The ADA recommends that a dentist examine a child within six months after the first tooth comes in and no later than the first birthday.
Babies can get teeth at different times. Most babies start to get teeth between 4 and 7 months. Some babies start to get teeth a little bit later. It's usually the 2 front teeth that come in first. They either can be on the top or the bottom.
From six months to twenty-four months, kids start teething in a major way, which makes them (and you) irritable. They'll bite on things, drool, and pull at their teeth. The simple, timetested measures still work best: Offer a chilled teething ring or cold, wet washcloth. If you must use a pain reliever, I recommend Children's Tylenol (acetaminophen) or Motrin (ibuprofen).
From
The Smart Parent's Guide: Getting Your Kids Through Checkups, Illnesses, and Accidents
by Jennifer Trachtenberg.
Take the RealAge Test!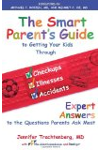 Continue Learning about Children's Oral Health