To start, you can brush their teeth for them as soon as they erupt (use water at first, then as they get older, a teeny amount of toothpaste). Make it a habit that they just grow into.

Kids seem to want to emulate adults as much as they can, so get them into the habit of watching you, and brushing with you. Let them pick out their own toothpaste (even a "kids" toothpaste is fine) and toothbrush. Make going to the dentist fun, too -- maybe combine it with a trip to the ice cream stand (yes, I know, that's a contradiction, but kids love ice cream, and we'd be unrealistic in saying "hey, reward them with spinach!")

Lastly, ask us. Most dentists have all kinds of written information on this very subject.
Make sure your kids have plenty of opportunities to watch you and ask questions. Let them lend a hand and assist when you're brushing your teeth. Kids are much more inclined to let you "have a turn" with brushing their teeth after they have had a turn on you, and have seen what to expect.
He'll probably need your help until age 5 or 6, but after that it's very important that your child brush on his own, but with your supervision. If you do it for him all the time, by the time he's 6 or 7 he's not going to have the dexterity or the desire to do it by himself.
From
Good Kids, Bad Habits: The RealAge Guide to Raising Healthy Children
by Jennifer Trachtenberg.
Take the RealAge Test!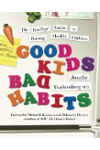 The best way to remove decay-causing plaque is by brushing and cleaning between your teeth every day. As soon as your child's teeth erupt, begin brushing them with plain water.

Make brushing your teeth a fun part of getting ready for bed. Use a gentle touch and teach your child to concentrate on all the surfaces of the teeth. Until your child is six or seven years old, continue to brush his or her teeth twice a day with a child's size toothbrush and a pea-sized amount of fluoride toothpaste and continue to assist with flossing as needed.
Make tooth brushing fun. Try brushing each other's teeth. If you need to brush, your child will understand that it is one of his or her needs as well.

Children's television programming will often have dental and health reminders for children. Your child's dentist will also show you how to brush properly at his or her first appointment, and usually will remind the child at every visit thereafter.
Continue Learning about Children's Oral Health