Yes. According to the Centers for Disease Control and Prevention (CDC), 17% of children and adolescents in the United States are obese. Obesity increases the risk of heart disease, type 2 diabetes, high blood pressure, and certain cancers. Children and adolescents who enter adulthood overweight or obese increase their likelihood of becoming obese adults.
Childhood obesity is a matter of huge concern. Experts in pediatric endocrinology, nutrition, and primary care together and the Centers for Disease Control and Prevention estimate that one in five (1:5) children is overweight or obese. If this trend continues, these Experts estimate 1:3 by 2020 or sooner. This means these children and teens have Type II diabetes, hypertension, high cholesterol, and all the attendant heart and kidney sequelae. These were adult medical issues in the past. This is a societal problem. Parents have to work with their kids to eat healthier, and be more active. Stop the TV and video games. The responsibility is with us pediatricians and with families to help kids be healthier.
Childhood obesity is a significant matter of concern. The excess weight causes a multitude of health problems that carry on into adulthood. While your child is dealing with the physical health issues, they are also being teased which is affecting their mental health. Obesity is a problem which needs to be addressed as soon as you are ready to acknowledge it.
Childhood obesity is matter of huge concern. Since 1980, the number of overweight children in the United States has tripled. Nine million children and teens in the US, aged 6-19 years, are now overweight. An overweight child is also more likely to become an overweight or obese adult.

Obesity is ranked as the number two cause of preventable death in the United States. Chronic diseases that were once only common in adults are now being seen in overweight and obese children. Type 2 diabetes, which is closely linked to overweight and obesity, use to be so rare in children it was known as adult onset diabetes. Today, more and more children are being diagnosed with type 2 diabetes.

Overweight children have increased risk factors for heart disease such as high blood pressure and high cholesterol. Sleep apnea, joint problems, back pain and early puberty are other major concerns. Psychological issues including lower self-esteem and depression are also more commonly seen in overweight children.

Being overweight, whether as a child or as an adult, means living a reduced quality of life often accompanied by major health issues. The good news is that overweight and obesity can be prevented, and even reversed. It is crucial that we, as adults, be good health and fitness role models for children and teach them the benefits of living a healthy lifestyle so these children can live a happier, healthier, and more functional life.


Continue Learning about Childhood Obesity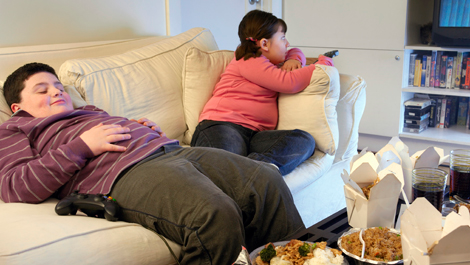 There are many reasons that we are seeing more overweight children than we used to. Portion sizes when eating out are larger, kids often get less exercise. More time is spent in front of the TV and computer. One out of five kids i...
s now overweight, and they are at risk for being overweight adults.
More