The recommended schedule of vaccines for most children includes two doses of a measles-containing vaccine (typically the MMR vaccine that protects against measles, mumps and rubella) separated by at least four weeks between doses. The first dose of MMR vaccine is routinely given at 1 year of age and the second dose is given at age 4 to 6 years, before a child enters kindergarten or first grade. The best way to know when your child is due for vaccines is to see a provider (typically a pediatrician or family doctor) for routine well-child checkup visits throughout childhood.
To see if your child's measles vaccine is due:
check your child's medical record
contact his or her healthcare provider
visit the Centers for Disease Control's online immunization scheduler for newborn to 6-year-old children.
The presence of the CDC logo and CDC content on this page should not be construed to imply endorsement by the US Government of any commercial products or services, or to replace the advice of a medical professional. The mark "CDC" is licensed under authority of the PHS.
Continue Learning about Childhood Vaccinations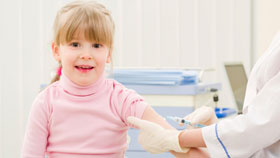 Immunizations help protect your child from disease. Vaccines are routinely given by your doctor. Learn more from our experts about childhood vaccinations.