Pressure-treated wood is often used in building playground equipment, decks, and picnic tables. The draw of using such lumber is that it stands up to the elements better and lasts longer than lumber that hasn't been treated. However, this type of wood is treated with toxic chemicals, specifically chromated copper arsenate (arsenic).

The concern here is that these toxic chemicals may leach out from the wood. One study, reported in the Bulletin of Environmental Contamination and Toxicology in 1997, showed that elevated levels of copper, chromium, and arsenic were found in soil beneath decks made of pressure-treated wood. Since children play in yards around decks, a child playing on the ground around the deck could ingest soil with these toxins in it if he puts his fingers in his mouth.

This is a potential hazard because arsenic is dangerous when ingested. Even if the levels of toxins in the soil are well below levels required for acute poisoning, such levels may still cause health problems.

The Consumer Product Safety Commission has not yet recommended that use of pressure-treated wood in consumer products be discontinued, but its tests have shown that arsenic can contaminate skin when the treated wood is handled. And that means that whenever your child plays on a treated wood playset or sits on a treated wood picnic table, any bare skin that comes in contact with the wood may be absorbing toxic chemicals.

Given the potential hazards of pressure-treated wood, you may want to keep your children away from it. Pressure-treated wood products can be replaced with nontoxic alternatives. Untreated wood, especially untreated cedar, is a good choice. If it's not possible to remove and replace the pressure-treated wood that your children have access to, consider coating the wood with paint or varnish to minimize the chance that arsenic will leach from the wood.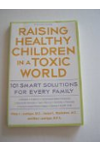 Continue Learning about Chemical Toxins