Although it's impossible to avoid all the toxins in our world, there are a number of easy, practical things you can do to minimize your exposure. Some of them:
Remove your shoes when entering your home, so you don't trek germs and pollutants inside.
Use air filters or commit to proper ventilation: high efficiency particulate air (HEPA)/ultra low penetration air (ULPA) filters and ionizers can be helpful in reducing dust, molds, and airborne chemical compounds.
Drink filtered water: use reverse osmosis systems or carbon filters. (Brita and Pur water systems allow you to fill up pitchers from your sink to filter and keep chilled in the fridge; you can also buy filters that go right onto your main tap in the kitchen.)
Clean and monitor your heating system: this will reduce carbon dioxide emissions that can literally poison you.
Keep houseplants: live plants filter the air and add oxygen. Fill your home with spider plants, aloe vera, chrysanthemum, Gerber daisies, Boston fern, English ivy, and philodendrons.
Purchase environmentally friendly cleaning products (baking soda and distilled vinegar products are relatively harmless).
Avoid excess exposure to environmental petrochemicals, such as those found in gardening supplies, dry cleaning fumes (air out your clothes when they come back from the cleaners), car exhaust, and secondhand smoke.
Reduce or eliminate plastics, nonstick wares (i.e., Teflon-coated), and aluminums when you store (and, for that matter, cook) foods. Use non-plastic wares, containers, and wrappings, such as ceramic, porcelain, glass, and natural parchment paper.
Use products with organic ingredients.
Keep a tidy house (just the sight of a clean house can be energizing).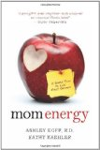 More About this Book
Mom Energy: A Simple Plan to Live Fully Charged
       From celebrated dietitian Ashley Koff and fitness trainer to the stars Kathy Kaehler comes Mom Energy, an exciting new way for moms to tap into their own natural and renewable sources of...
Continue Learning about Chemical Toxins