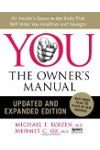 If you boil a pot of pasta by the kitchen window, the window is going to steam up so you can't see out of it. That's essentially what cataracts do: cloud the lens of your eye to cause blurry vision.

Though cataracts don't really cause a total loss of vision, the clouding can worsen over time to the point of making you legally blind (you're legally blind if you can't read the top letter E on a vision chart from a distance of 20 feet).

Many things, including UV light, cigarette smoke, and extra glucose in diabetics (all factors that accelerate arterial aging, by the way), can increase the risk of cataracts. In addition to avoiding these risk factors, getting adequate vitamin C may be helpful in protecting against cataracts.

Cataract surgery can remove the cataract and implant a new lens in the eye.