The vast majority of "diet-friendly" energy bars contain preservatives and modified ingredients such as sugar alcohols. Sugar alcohols, which we mentioned earlier, are designed to offer a low carb sugar profile, can present a challenge to the digestive system; they are not meant to be absorbed and as such often cause gas and irritation. So instead of helping your energy level, these sugar alcohols and other preservatives may further irritate your entire system and, put simply, clog your energy flow. Opt instead for soybean in the whole-food form (edamame, tofu, etc.) versus bars and other food products made with isolated soy protein. There are great nutrients in the whole bean, fiber, and omega-3 fatty acids, among others that are lost when the protein is isolated.

Remember, carbohydrates are what the body needs for energy. Ingredients that impersonate carbs for taste but don't provide genuine energy are cheating the body, and the body always catches on to cheats -- often resulting in an irritated digestive system.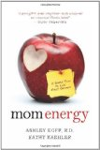 More About this Book
Mom Energy: A Simple Plan to Live Fully Charged
       From celebrated dietitian Ashley Koff and fitness trainer to the stars Kathy Kaehler comes Mom Energy, an exciting new way for moms to tap into their own natural and renewable sources of...
Continue Learning about Carbohydrates