In situ cancers are tumors that haven't grown beyond their original site; "in situ" literally means "in the site of," or localized. These are considered noninvasive cancers.
Within in situ cancers, there are two types:
A. Ductal carcinoma in situ (DCIS). DCIS refers to abnormal cells in the lining of a milk duct that haven't invaded the surrounding breast tissue. This is early-stage breast cancer and is sometimes considered a precancerous condition. Almost all women with DCIS can be successfully treated, and no evidence suggests that DCIS affects a woman's life span. However, if left untreated, DCIS may eventually develop into invasive breast cancer.
B. Lobular carcinoma in situ (LCIS). LCIS means that abnormal cells are contained within a lobule of your breast but they haven't invaded the surrounding breast tissue. Whether LCIS is an early form of breast cancer or just an indicator for future cancer is still a controversy among experts. But they do agree that LCIS increases the risk of developing breast cancer later.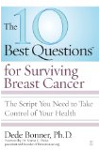 In situ cancers are early-stage cancers in which the cancerous growth or tumor is still confined to the site from which it started, and has not spread to surrounding tissue or other organs in the body. When cancer in situ involves cells that line the internal organs (epithelial cells), it is called carcinoma in situ.
Continue Learning about Cancer