Here are some examples of things you can do to provide support to a friend or loved one who has cancer:
Go to the home for a visit
Shop for groceries or other items
Clean the house
Prepare meals
Send inspirational stories or messages
Accompany the person to healthcare appointments
Provide transportation to appointments or events
Easy ways to provide emotional support include:
Send cards and notes with positive messages
Do chores around the home
Have a long talk and listen
Add the person to your prayer list.
As a partner, your work as caregiver may involve the following:

1. Helping to maintain the household. This includes cooking (or arranging for food from friends or takeout sources), cleaning, childcare, driving, and any other task for which your partner requests help.

2. Keeping track of your partner's medical appointments and treatment schedule. It is a smart idea to be organized, and we recommend getting a calendar especially for this purpose.

3. Keeping a list of all medications, including over-the-counter medications, for both of you to carry with you at all times.

4. Providing reassurance of your continued love and support. This includes being affectionate and patient (treatment for cancer can be an emotional roller coaster ride), listening attentively when your partner wants to talk (without pressuring to talk if he or she doesn't want to), and assuring your partner that you will take an active role in his or her recovery.

5. Encouraging your partner to move forward, one day at a time. Some people question why they got cancer. Cancer is caused by a variety of factors, most still not understood, and it is nonproductive for your partner to feel guilty about what he or she did or did not do to get cancer. This feeling of guilt can be particularly tricky when cancer runs in families (genetic or hereditary cancers), as the guilt is not only personal but can have far-reaching implications for other members of the family.

6. Providing hope, optimism, and improving the quality of life of your partner during treatment and afterward. Quality of life is an important consideration for all cancer patients, and as a partner you are in a unique position to greatly help in this capacity. A cancer journey may have many ups and lots of downs. Cancer is an anxiety-filled experience. You can't always avoid the negative emotions and stress, but you can strive for honesty about how you are feeling and accept that the ups and downs are a normal part of the process.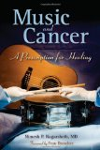 More About this Book
Music And Cancer: A Prescription For Healing
From diagnosis to end-of-life care to the meaning behind life with cancer, Music and Cancer: A Prescription for Healing is designed to improve the quality of life of people affected by cancer in a...
This is an important question. Be a friend and listen, listen, and listen. You don't have to have the answers for your friend with cancer, you just need to care and listen. Next, it is helpful to offer to do specific tasks, rather than say, "Let me know if there is anything I can do." For example, you might offer to drive a person to some of their cancer treatments, pick up groceries, or clean the house. Finally, it may be helpful to connect the person with cancer to resources like support groups, educational presentations, or support organizations, such as the Cancer Support Community at the Center for Integrative Oncology and Survivorship (www.ghs.org/cios, (864) 455-1346).
The contents of this website are for informational purposes only and are not intended to be a substitute for professional medical advice, diagnosis, or treatment. Nor does the contents of this website constitute the establishment of a physician patient or therapeutic relationship. Always seek the advice of your physician or other qualified health provider with any questions you may have regarding a medical condition.
Continue Learning about Cancer