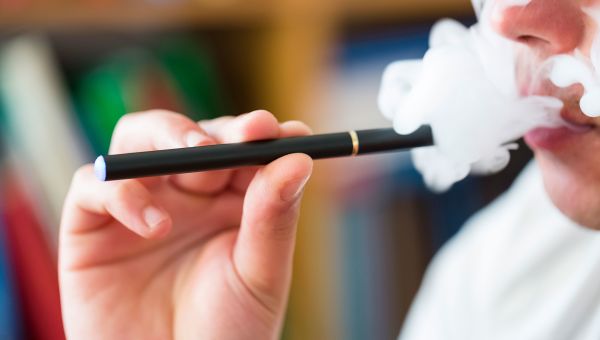 E-cigarettes are loaded with potentially harmful chemicals and won't likely help you kick the smoking habit.
We know cigarette smoking is bad; it's the leading cause of preventable death. In fact, lighting up causes nearly 6 million annual deaths worldwide. But is vaping really a safe alternative?
Vaping refers to the use of electronic cigarettes or e-cigarettes and similar handheld devices, which heat and vaporize liquids for users to inhale. In addition to tobacco, e-cigarettes can also be used to smoke marijuana. Vaping liquids typically contain nicotine, flavor enhancers, color dyes and chemicals like propylene glycol. However, the exact combination of ingredients varies according to brand and flavor, although package labels aren't always accurate. In fact, some products that claim to be nicotine free have been found to contain the substance.
"Until we actually have FDA-approved studies, there really is no consistent way for consumers to know exactly what they're getting," says Susan Garwood MD, a pulmonary critical care physician at TriStar Centennial Medical Center. That lack of transparency and concern over the safety of chemical ingredients sparked demand for FDA regulation of vaping products. In response, the FDA announced companies would have to submit products for approval as of August 2016.
Two years later, the FDA took further regulatory steps. In August 2018, the administration announced it was cracking down on companies who make or sell products packaged to resemble kid-friendly treats, like juice boxes and candies. Advertising tobacco products in ways that appeal to kids violates the Federal Food, Drug, and Cosmetic Act.
There is still much to be learned about the safety of electronic cigarettes, but here's what we do know.
What's in your e-cigarette?
You might not know what you're inhaling with each puff. Here are some common ingredients and how they affect your body.
Nicotine: The majority of vaping liquids contain nicotine; some offer less per puff than cigarettes, which is one reason vaping has been marketed as the "safe" or "safer" smoking alternative. More research on the long-term effects of e-cigarettes is needed, but we already know the nicotine content in vaping liquids can pose health risks. Nicotine elevates the heart rate, is highly addictive and associated with impaired cognitive development among adolescents.
Parents must keep vaping devices out of reach of children, too, says Garwood, since ingesting even a few drops of the liquid can be dangerous and even deadly. In 2016, Congress passed legislation requiring child-resistant packaging for vaping liquids, but many cartridges can still be opened by curious kids. Between January 2012 and April 2017, more than 8,200 cases of exposure to liquid nicotine in children under 6 were reported, according to an analysis published in Pediatrics in May 2018.
Vaping is also unsafe during pregnancy. "Somehow I think society sees e-cigarettes as more acceptable for pregnant women to use. That is not the case," notes Garwood. Nicotine can cause low birth weight, preterm delivery and other pregnancy complications, like brain and lung damage and a greater risk of SIDS.
Flavor enhancers: From cinnamon roll to Pina colada to pink lemonade, the flavor possibilities of e-cigarettes are seemingly endless. Some of the most appealing flavors on the market often contain chemicals like diacetyl, which may cause lung irritation and lasting asthma-like diseases. More research is needed to confirm whether the amount in most e-cigarettes is enough to cause lasting effects.
In addition to posing a potential carcinogen risk, these popular flavors present a higher risk of inhalation damage, Garwood says.
Chemicals: E-cigarettes often contain an array of chemicals that become toxic when heated, like propylene glycol, which turns into formaldehyde at high temperatures. Formaldehyde—a naturally occurring chemical often found in building materials and household cleaners—is a known cancer-causing agent that can trigger asthma and affect lung function.
Research published in Scientific Reports in May 2018 suggests e-cigarettes contain more formaldehyde than previously believed. The amount users inhale varies according to brand, flavor and size and frequency of puffs, but some research suggests it's possible to get more formaldehyde from e-cigarettes than traditional smoking.
"It depends on how long it takes you to ingest the 3 milliliters of liquid," explains Garwood. "But, if you're puffing through a whole cartridge in a day, you're going to get substantially more formaldehyde than with a pack of cigarettes."
Who is using e-cigarettes?
Electronic cigarettes have become the most commonly used tobacco products among teens, despite age restrictions that state a person needs to be 18 years old to purchase these devices. In 2016, more than 2 million middle and high school students in the US used e-cigarettes at some point within the last 30 days, including more than 4 percent of middle school students and 11 percent of high schoolers. In contrast, 3.2 percent of adults reported vaping during the same year.
Of adults using e-cigarettes in 2016, more than 88 percent were current or former regular cigarette smokers. The rest—about 11 percent—had never been regular cigarette smokers. So, if people aren't using e-cigarettes to kick their cigarette addiction, why are they vaping? According to a study published in PLOS One in March 2017, the answer is social image.
Researchers scoured Twitter in 2012 and again in 2015 and found that at the beginning of that period, 43 percent of collected Tweets cited quitting as their primary motivation. That percentage dropped to less than 30 in 2015, but social image motivators rose from 21 percent to 37 percent during that time period.
Can vaping help you quit smoking anyway?
Vaping is neither approved by the FDA, nor supported by the American Lung Association as a safe way to taper off cigarette use. According to the US Preventive Services Task Force, evidence isn't sufficient enough to recommend e-cigarettes as part of a healthy quit plan, citing that more research is needed.
A July 2018 study published in PLOS One even found no evidence that vaping is a helpful quit aid. Researchers looks at more than 1,200 smokers from 2015 to 2016 and found those who used e-cigarettes at the beginning of the study had 70 percent lower odds of quitting, compared to those who didn't vape at the study's start.
Since e-cigarettes are not approved for smoking cessation, there aren't well-defined tapering strategies in place for using these devices, like there are with other quit aids. The amount of nicotine users inhale isn't typically controlled, and it may not decrease over time. Instead, it varies according to the size and frequency of puffs. In fact, "people may actually be getting more nicotine because of the way they use the devices," Garwood says.
So…is it safe to vape?
"The jury's out," says Garwood, as more studies are needed to learn the lasting effects of vaping on your health. To date, studies haven't found any major side effects at up to two years of use, though many more safety studies are underway. But Garwood warns that "consumers need to be aware that they're not taking away all of the cancer risk. There are carcinogens in the liquids."
In general, there are fewer harmful chemicals in e-cigarettes compared to traditional cigarettes, although the amount of exposure varies with brand and user habits. Preliminary studies suggest some brands contain cancer-causing chemicals like nitrosamines and carbonyl compounds, in addition to formaldehyde.
As Garwood points out, "if you had an option not to be exposed to carcinogens at all, wouldn't you choose that?"
Medically reviewed in August 2019.