Try "Sexy Sassy Breastfeeding Moms" on Facebook for support with libido and breast feeding issues. Breastfeeding moms have full, luscious, breasts and are often considered more sexy by their partners. Of course, hormonal changes and demands of our little one(s) may sometimes take priority and perhaps the mental challenge of switching roles from Madonna to lover. Quite honestly, some women enjoy breastfeeding so much, they have enhanced feelings of sensuality. Physical challenges can include some leakage during sexual acts and you may need to plan ahead with a pad in a sexy bra! Milk is the liquid gold of your child's universe and a precious jewel in your arsenal of womanhood. Going up a bra size or two may also help you feel sexy, at least temporarily! Own your power -- breastfeeding is an art!
Nursing your infant may affect your libido in different ways. First, it is important that you have seen your healthcare provider following your delivery, and you have healed and can resume sexual activity. Nursing, along with a new baby, can leave a new mommy exhausted and "touched-enough". This sometimes leaves both mommy and daddy wondering if things will ever be the same. Being sure to take time out for you is important, and finding time to be intimate may require some creativity and planning. This may take some level of spontaneity out of intimacy, but creates a "calm" time for the new mother; when she doesn't have to be thinking about the baby's needs, or needs of other children.
Planning some sensual time right after breast feeding, when the breasts are less full of milk, may increase the sensitivity without increased letdown. Some new mothers report that they feel more sexual with nursing, while others report feeling less sexual.
Nursing can produce hormones that can create vaginal dryness, regardless of how aroused a woman may be. It can easily be helped with an over the counter lubricant like Astroglide or KY Jelly. If it seems that nursing has interfered with your libido, consider some important things: 1) Are you getting enough sleep? Less sleep and exhaustion can leave sex at the bottom of your "to do" list. 2) Are you getting plenty of "self" time; outside of baby care and other family care? It is always important to carve time out for yourself following the birth of your baby. Time for you is about giving yourself permission to do what you want. If sexual/sensual time is part of that "self" time, it's time for you to carve that time out for you. 3) Are you eating well, and drinking plenty of fluids? Like exhaustion, when you are nutritionally at a deficit, your body may sense "stress" and your natural/normal feelings may be off. 4) Finally, you need to ask yourself if any other aspects of your life seem different, as you may be suffering from postpartum depression.
Talking with your healthcare provider may provide you with a clear perspective on what you may be feeling or experiencing.
Since breastfeeding enhances feelings of intimacy and Oxytocin is the" Love Hormone" which is released with nursing, Breastfeeding moms tend to resume sexual activities sooner than formula feeding moms. There are some specific issues that are unique to the breastfeeding woman in terms of sexual response. First, the decreased estrogen production may lead to vaginal dryness, which may cause discomfort with penetration. Frequently, the woman may interpret this discomfort as a result of the birthing process and possible vaginal trauma. Usually, reassurance that the simple use of lubricants like KY or Astroglide may make the whole experience much more pleasurable is sufficient. Another common concern is that the sexual response may cause milk to leak during foreplay. I frequently recommend that women might be more comfortable wearing their bra to bed with nursing pads to absorb the fluid so they don't have a wet bed to deal with in the middle of the night. Another frequent concern is whether the partner should taste the milk, or manipulate the breasts. This obviously is a very individual decision that must be acceptable to both partners- there is certainly no right or wrong, or any medical restriction involved. Parenting may be a stressful event in the early months, and sexual activity can be a great stress buster as well as an important form of communication for new parents, re-affirming the importance of the relationship. Relax and enjoy!
"Breast" may be best, but not when it comes to your libido. Because of breast milk's benefits, women should nurse their babies if possible. Yet breastfeeding can hamper sex drive in several different ways. If you nurse, don't stop just to boost your libido -- but do be aware of these effects, which will likely resolve once you wean your little one.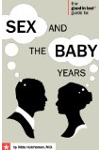 More About this Book
The Good in Bed Guide to Sex and the Baby Years
Available at a substantial discount for a limited time only, thanks to support from K-Y(R) Brand!Once you get down to the business of baby-making, the advice will pour in: books, magazines, in-laws,...
Continue Learning about Breastfeeding A Baby