Brain function, as it relates to aging, really encompasses things like memory and concentration-not intelligence. In fact, intelligence isn't necessarily a factor in keeping your brain function young. Maybe that's because of all the different ranges and definitions of intelligence.

For one, there are gender differences in intelligence. Men use their brains faster to act and solve a problem (it stems back from the days men had to spear the wooly mammoth), and women have better lateralization (that is, the ability to analyze a complex topic).

Here's a good way to think about it: When men go shopping, they know they need shaving cream, so they walk in the store, find it, pay for it, and leave. When women shop, they browse. They assess options, they make decisions based on numerous outside factors, and they could come out of the store with a bulk bottle of ibuprofen, the latest issue of People, and a Valentine's Day card for Mom (even though it's June)-none of which were on the list to begin with.

It doesn't mean one's smarter or more efficient than the other; it just means we assess and process information differently.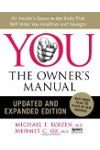 Continue Learning about Brain Health