Botox is well-known for its wrinkle-reducing abilities. Dermatologist Debra Jaliman, MD explains how these injections work in this video.
Botox is the toxin made by botulism bacteria. It has several medical purposes, including temporarily reducing wrinkles. These anti-wrinkle treatments involve a doctor injecting Botox into facial muscles. Botox treatments can help reduce some kinds of wrinkles, such as crow's feet at the corners of your eyes and the frown lines between your eyebrows. However, lines around your mouth generally aren't treated with Botox. The wrinkles will come back after three to six months, and will only be reduced again with another Botox treatment. Botox treatments may or may not be right for you, and it's important to remember that Botox treatments won't help the health of your skin - it only reduces the appearance of wrinkles. Your doctor can help you make the decision on whether to treat your wrinkles with Botox.
Muscles of the face are used for facial expression and for other important functions such as blinking, chewing and moving the lips to pronounce sounds. Botox is especially useful in softening the movement of the muscles that create facial expression. However, care has to be taken not to affect the other important actions of those muscles. When administered correctly Botox can create a soft, natural face that is more true to the feelings and expressions you mean to convey. Specific doses of Botox are injected with a tiny needle into the muscle that is causing the wrinkle. Over the next five to seven days, the Botox effect begins. The Botox blocks nerve impulses of the muscle, which blocks the ability of the muscle to move. This causes the wrinkles in the overlying skin to soften gradually and often disappear as the expression that led to the wrinkles is also softened. The effect lasts for about three to five months, with an average of about three months of a wrinkle-free face. What's so interesting is that during the time that the Botox is working, patients can be trained not to tug at the muscles that created those extreme expressions and led to the wrinkles in the first place.
Botox is a highly diluted and purified form of botulism toxin (the bacteria that causes food poisoning). When injected into the skin, Botox temporarily reduces the ability of the underlying muscles to contract and crease the skin.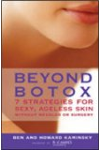 Wrinkles look their worst when you are smiling or squinting. If you want to diminish wrinkles without living an expressionless existence, Botox injections provide a relatively easy, FDA approved solution as long you do not mind needles. The injections essentially relax the muscles around the corners of your eyes, so you can laugh without revealing your wrinkles.
Continue Learning about Botox Injections