Muscle cramps are very common. Unfortunately, it can be difficult to stop them completely. It makes sense to first think about the possible causes, and then see if there are any steps you can take to relieve the symptoms.

Some people develop muscle cramps due to problems in their feet and legs. If you have a history of foot, ankle, or knee problems, ask your doctor whether that might be related to your muscle cramps. Sitting in the same position for long periods of time can worsen cramps, so you should avoid doing that. Make sure to wear supportive shoes, especially when walking on hard surfaces.

Some people develop muscle cramps due to dehydration or an imbalance in the level of electrolytes in the body. This may occur more often in people taking diuretics, or "water pills." There are several other drugs that can cause muscle cramps. Ask your doctor if any drugs you take may be contributing to the muscle cramps. But don't stop taking any medications until you talk it over with your doctor.

In rare cases, muscle cramps can be a sign of a more serious disease. Your doctor can determine if any testing is needed.

Your doctor may suggest medications to help control the muscle cramps, but unfortunately no medications consistently relieve these symptoms.
Continue Learning about Joint Health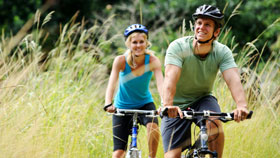 Standing, bending, climbing, walking, running, jumping, lifting a baby -- so many of our daily activities require healthy, functional joints. While some joints (like the knees) provide stability, others (like the wrists, ankles an...
d hips) enable us to move. Learn how to protect your joints from injury and keep your joints healthy for life.
More