The shock-absorbing cartilage in our joints starts to thin as we age; in turn, our bones rub together more easily, causing pain. Watch rheumatologist Natalie Azar, MD, explain how our joints are affected by aging and loss of cartilage.
As the body ages, the tissue in our joints becomes less flexible, so damage becomes more likely. We lose muscle tissue and muscle mass as we get older, too, which affects our balance and range of motion. Falls and other injuries can cause joint pain and inflammation.
Continue Learning about Joint Health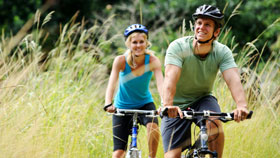 Standing, bending, climbing, walking, running, jumping, lifting a baby -- so many of our daily activities require healthy, functional joints. While some joints (like the knees) provide stability, others (like the wrists, ankles an...
d hips) enable us to move. Learn how to protect your joints from injury and keep your joints healthy for life.
More