How can I correct muscle loss from a tilted pelvis?
An anterior tilt of the pelvis is common in our society as well as on active athletes. We as a society do a lot of sitting, which causes a shortened hip flexor and subsequently posturally and actively inhibits the hip extensors (glutes). Flexibility exercises of the hip flexors followed by strengthening exercises of the glutes are the prescription for relief of some of the problems associated with these postural asymmetries. It is most likely that you have not had actual muscle loss, but rather (depending on your age) are suffering some sort of atrophy. We would recommend contacting an NASM certified professional in your area for assessment and exercise implementation. The NASM website is an incredible resource for information about contacting a health and fitness pro in your area. Go to NASM.org for more information.
Continue Learning about Joint Health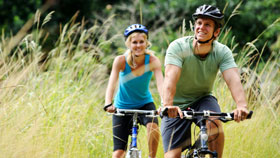 Standing, bending, climbing, walking, running, jumping, lifting a baby -- so many of our daily activities require healthy, functional joints. While some joints (like the knees) provide stability, others (like the wrists, ankles an...
d hips) enable us to move. Learn how to protect your joints from injury and keep your joints healthy for life.
More