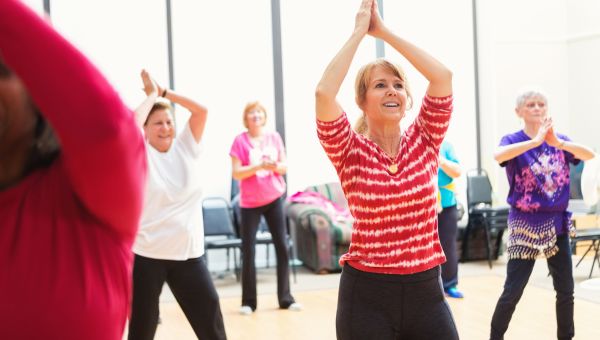 Don't let that knee and hip pain keep you down. Instead, put on your dancing shoes. It could help you find joint relief and improve your walking.
A small study at St. Louis University followed 34 seniors who had pain or stiffness in their knees or hips. Most of the participants were women, and their pain largely stemmed from osteoarthritis. The people were split into two groups: One group went to dance classes for 45 minutes one or two times a week for 12 weeks, while the other group didn't dance. The classes involved a type of dance therapy called Healthy Steps, which was designed to help improve strength and flexibility. This slow, rhythmic form of dancing can be done sitting or standing.
At the end of the 12-week study, participants in the dancing group not only had less knee and hip pain, but they were able to walk faster as well. The dancers' use of pain medicine dropped by 39 percent, while people who didn't dance needed 21 percent more medicine. The improvement in walking speed wasn't dramatic, but still could greatly improve seniors' lives, the researchers say. Older adults who can no longer walk well are more likely to suffer falls, be hospitalized or need care by others.
Not into dancing? No problem. Many other easy exercises can help you get stronger and stay flexible. Try these other fun ways to beat arthritis and live with less pain:
Jump in the pool. Swimming is great exercise for anyone, and the water is less stressful on your joints. Another wet workout option: Try water aerobics.
Hit the mat. Practicing yoga can alleviate pain and increase flexibility. And it can be tailored for those who need gentle exercise.
Take a walk. It reduces pain and the swelling of joints. Plus, it can help you stay at a healthy weight, which reduces pressure on joints.
Medically reviewed in November 2019.