Typical knee injuries include patellar tendinitis, medial meniscus tear, anteriorcruciate ligament (ACL) sprain (tear), medical collateral ligament (MCL) sprain, and patellafemoral tracking issues. With patellar tendinitis, the tendon that connects the patella to the tibia is inflamed for various reasons. An ACL and/or MCL sprain can occur as the result of a twisting motion at the knee when the foot is planted. Patellafemoral tracking issues cause pain when the knee cap does not track properly up and down the femur and rubs on the ends of the femur (thigh bone). A medial meniscus tear can occur from a variety of things such as twisting the knee or landing from a jump and/or fall; this injury can also happen at the same time as an ACL and/or MCL sprain.
This answer provided for NATA by Sara Y. Pittelkau, MA, ATC, LAT.
Knee injuries are problems with the knee that can range from mild to severe. Some of the less severe yet still painful and functionally limiting knee problems are runner's knee (pain or tenderness close to or under the kneecap at the front or side of the knee), iliotibial band syndrome (pain on the outer side of the knee), and tendonitis (also called tendinitis, marked by degeneration within a tendon, usually where it joins the bone). Knee injuries can result from a blow to or twist of the knee or from running too hard, too much, or without proper warm-up.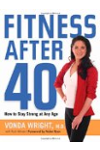 More About this Book
Fitness After 40: How to Stay Strong at Any Age
It's one of the undeniable facts of life. After we reach a certain age, our bodies change. No matter how fit we may have been at 20, we're very different people after 40. But growing older doesn't...
Continue Learning about Bone & Joint Injuries