Physicians traditionally used body mass index (BMI) as a way to assess a person's risk for disease. The problem with this measurement alone is that it does not account for the very lean person who weighs more per inch than a fat person since muscle weighs more than fat. A more accurate way to determine health risk is to combine your BMI measurement with your waist circumference measurement (remember, it matters where the fat is stored). Ideally, men's waists should be less than 40 inches and women's less than 35.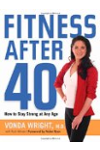 More About this Book
Fitness After 40: How to Stay Strong at Any Age
It's one of the undeniable facts of life. After we reach a certain age, our bodies change. No matter how fit we may have been at 20, we're very different people after 40. But growing older doesn't...
Continue Learning about Body Mass Index (BMI)