Birth Defects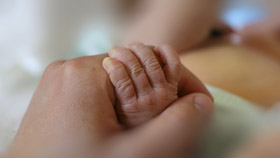 The cause of most birth defects is unknown, though genetics and environmental factors can play a role. While prenatal tests can detect some birth defects, many are not found immediately. Some birth defects can be prevented by taking vitamins with folic acid before conception and avoiding known contaminants such as smoking, alcohol and illegal drugs.
Recently Answered
3 Answers

The recovery time in the hospital for pectus excavatum surgery is three to four days.

See All 3 Answers

3 Answers

The best age for pectus excavatum surgery is between 10 and 12 years old.

See All 3 Answers

2 Answers

Pectus excavatum is believed to arise from excessive growth of the cartilage connecting the ribs to the breastbone leading to the pulling inward of the sternum. It is often present at birth. The condition may also develop during puberty and can range from mild to severe. As the child matures, symptoms of easy fatigability and decreased stamina and endurance become apparent.

See All 2 Answers

2 Answers

The symptoms of pectus excavatum include shortness of breath, chest pain and heart palpitations.

See All 2 Answers

1 Answer

The Nuss procedure is a minimally invasive repair to pectus excavatum, better known as sunken chest or funnel chest.

2 Answers

Surgery for pectus excavatum can do more for young teens than just change their physical appearance. It can improve the patient's quality of life.

See All 2 Answers

4 Answers

Pectus excavatum, also known as sunken chest, is a depression in the chest wall.

See All 4 Answers

2 Answers

The Nuss procedure is a minimally invasive procedure used to correct pectus excavatum, a congenital deformity known as "sunken chest" or "funnel chest."

The Nuss procedure uses three small incisions; one under each arm and the third for a thin scope that gives the surgeon an inside view of the chest. During the procedure, a curved stainless steel bar is placed behind the sternum. It sits on top of the ribs on either side of the sternum; the chest wall is used as a base of support. The bar, which sits entirely under the skin and soft tissues, pushes the sternum to its proper position. It's left in place for three years. During this time the chest remodels itself to the normal contour. Removing the bar only requires an out-patient procedure.

Patients will experience improvements in breathing, comfort and stamina soon after surgery. Typically they can return to school or work in one to two weeks. Competitive sports and other strenuous activities can be resumed in about eight weeks.

See All 2 Answers

1 Answer

To treat congenital lung lesions, your doctor may recommend removing the damaged portion of the lungs. This surgery is performed during infancy.

1 Answer

Congenital lung lesions refers to cysts that develop in the lungs in utero.