TTe American College of Obstetricians and Gynecologists (ACOG), after looking carefully at medical research, has said that women should discontinue hormonal contraception methods such as pills, patch and vaginal ring by age 55 years. Most women will discontinue these methods at a younger age than this. If she no longer needs contraception, a woman may discontinue at any age. If she is using hormonal contraception to help control her menstrual cycles, she may be able to discontinue the medication in her late forties or earlier in her fifties. While ACOG guidelines allow pill use well past age 50, most of the research on pill safety includes women only up to age 45 years. When you reach age 45, it is a very good idea to review your health and any risks with your health care provider to be sure you are safe to continue using these methods.
There are some health related reasons why a woman should discontinue estrogen containing birth control regardless of her age. These include blood clots in her vessels, high blood pressure, migraines with aura in women of any age, and migraines even without aura in women over 35 years.
I also see in my practice that women seem to believe there is some set number of years to use hormonal contraception, after which these methods should be discontinued. In the absence of any other health factors, this is not true. Hormonal contraception can be used safely and effectively until a woman is no longer fertile.
Continue Learning about Birth Control Pill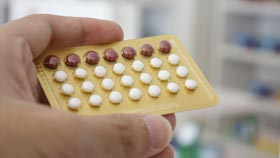 Birth control pills contain estrogen and progesterone to suppress ovulation and prevent pregnancy. Common side effects include bleeding between periods, nausea, weight gain, breast tenderness, mood changes and mild headaches. The ...
birth control pill is one of the most popular and effective contraceptive methods available. When taken correctly -- at the same time every day -- they are 99% effective at preventing pregnancy.
More