Just as the cause of bipolar disorder is not fully understood, there is no known cure for the illness, but it can be managed with medication, education, and psychotherapy, which is the classic three-pronged method for treating the disease. Other strategies for managing the disease include stress reduction, exercise, good sleep habits, and a diet high in omega-3 fatty acids. Thanks to the decreasing stigma of mental illness, more accurate diagnoses, and the availability of better treatments, many people with bipolar disorder can maintain stability and lead productive lives.

Bipolar disorder is a chronic illness with no cure—yet. This means that episodes can occur throughout the life span, from childhood to old age. In between episodes, many people are symptom free, while others have residual symptoms, and a small percentage of people have frequently recurring and severe symptoms despite treatment.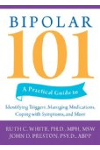 There is no cure for Bipolar Disorder, but symptoms can generally be managed well.
Episodes of bipolar disorder can be prevented by the use of mood stabilizer medications and psychotherapy and regulation of stress. Can bipolar disorder be prevented from ever occurring in the first place? We don't know, but this is an area of increasing interest to researchers. Can you treat adolescents or young adults at the age of onset who are having mild symptoms and may be at risk because of family history and prevent the illness from occurring? This is an active area of research that may soon yield some answers.
Because there is, as yet, no cure for bipolar disorder, the disorder must be treated throughout life, and managed on a daily basis to help prevent recurrences. Left untreated, the natural course of bipolar disorder generally worsens. But with effective treatment, you can live an enjoyable, productive life. Research has shown that medications taken to keep mood swings at bay reduce changes to the brain usually seen as the disease progresses if untreated.
Unfortunately, right now there is no cure for bipolar disorder. Although researchers continue to study this condition, we still don't even know for certain what causes it. Researches have been looking at genetic components of bipolar disorder, but we have to remember that a person's biological make-up, including their genes, is only one component of bipolar disorder; so even if we find a gene that we can say is definitely involved in bipolar disorder, that's still only part of the story.
What you can do to help is participate in research. If studies are offered to you, ask lots of questions about what your role would be, what responsibilities you would have, what risks there might be, and so on. Discuss it at length with your health care team and your family to ensure it's right for you. But the more people we can have involved in research studies, the more likely we will be able to someday find the cause - and the cure - for bipolar disorder.
There is no cure for bipolar disorder. The imbalances in the brain cannot be permanently reversed and people who do not effectively treat their symptoms go on to have more episodes. A regimen of medication and preventative measures like adequate sleeping and exercise can keep manic and depressive symptoms to a minimum. A combination of medication including mood balancers, a healthy lifestyle that avoids non-medical drugs and alcohol, and cognitive and behavioral therapy is the most effective form of lifelong bipolar treatment.
Continue Learning about Bipolar Disorder