One of the many common concerns that you may have about taking psychiatric medications for bipolar disorder is that you may be worried that medications will change who you are. Well, isn't that the point? You won't be anyone but you, and you'll be a healthier you—someone who can live life without the uncontrollable mood swings that come and go or their devastating impact on your life.

Because you may not feel like yourself anymore, you may be tempted to adjust your dosage without consulting your medical provider. Many people particularly miss the highs and creativity often associated with hypomania. However, adjusting your own dosage is playing with fire.

For example, if you reduced your medication dosage to experience the highs of bipolar disorder, you would also take the risk of experiencing the painful lows of the illness, and the latter may not be worth the former. Your hypomanic symptoms might also morph into full-blown mania. In general, the consequences of your risky medication behavior could mean a return of symptoms and possible hospitalization.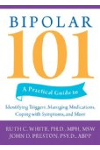 Medications for bipolar disorder will not change your personality; they will simply target and treat the illness. In this video, psychiatrist Amanda Itzkoff, MD, explains how medications work to help keep bipolar disorder symptoms under control.
Continue Learning about Bipolar Disorder Treatment