Treatment effectiveness has everything to do with symptom acuity, treatment compliance and the presence (or absence) of healthy lifestyle practices. Where symptoms are recurrently in the more severe range of acuity, then treatment "effectiveness" will be more difficult to achieve. Conversely where symptoms are in the mild to moderate range and healthy lifestyle practices are well established, then treatment endeavors are usually more successful. The painful aspect of living with bipolar disorder is that for most bipolar individuals, there is no "cure" that will result in permanent symptom resolution. Effectively living with bipolar disorder requires ongoing effort towards successful management of the disorder.
The National Institute of Mental Health states that a combination of medication and psychosocial treatment (which explores how your social environment influences your thoughts and behaviors) is the optimal treatment for managing bipolar disorder in the long term. A review of treatment outcome studies concluded that, in conjunction with medication, psychotherapy reduces the overall rates of relapse but is more effective for reducing episodes of depression than episodes of mania. In one study, the use of cognitive behavioral therapy had a moderate to large positive impact on sleep, which the authors suggest likely improves other medical and psychiatric measures because of the impact of sleep on well-being.

One review of the research found scientific support for four different psychosocial interventions: cognitive behavioral therapy (CBT), interpersonal and social rhythm therapy (IPSRT), family focused psychoeducational treatment, and group psychoeducation, with no particular model appearing more effective than any others.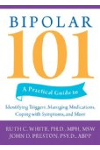 Aboslutely. However, while for years psychiatrists have focused on the biological component of bipolar disorder, and therefore on the medication that will effectively treat the illness, I think we're finally coming to a point where even medical doctors are recognizing that medications are only part of the answer.
Medication is generally recognized as the cornerstone of treatment for bipolar disorder, but it's important to remember that medications obviously don't change the way you think about and cope with situations. Meds might help improve your mood, of course, which might help to improve your outlook on life; but psychotherapy is now widely acknowledged as a helpful adjunct to medication treatment for this illness.
Cognitive Behavior Therapy (CBT) and Interpersonal Social Rhythm Therapy (IPSRT) are two treatments that have been studied and found to be fairly effective for bipolar disorder. Not every treatment is helpful for everyone, however, and even these treatments aren't "cures", so it's important for us as professionals to keep looking for other therapies that might be even more effective.
I've recently done some research on a newer treatment called Dialectical Behavior Therapy (DBT), created by Dr. Marsha Linehan in the 1980's; this therapy looks to be a promising new treatment for many conditions, including bipolar disorder. In my research (which hopefully will be published in 2012), I found that DBT helped people with bipolar disorder to reduce their symptoms of depression, reduce their fear of their emotions, and increase their self-awareness, an important component of preventing future relapses. For more information about DBT and my research, visit www.dbtforbipolar.com.
There is no cure for bipolar disorder, but proper treatment can help even people with the most serious forms of the illness effectively get control of their mood swings and other symptoms. Bipolar is a lifelong illness, so people must follow their treatments consistently to control their symptoms. However, even with good treatment, people may still have some mood swings. Research has shown that almost half of people who recovered from severe bipolar disorder still had some lingering symptoms. The risk of a relapse is higher in people who have other mental illnesses in addition to bipolar disorder.
Continue Learning about Bipolar Disorder Treatment