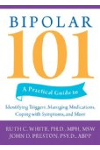 Exercise has many benefits for everyone, especially for people living with mood disorders. Exercise increases cognitive functioning, fights depression, and improves overall mental health, because exercise releases many brain chemicals that foster feelings of emotional and psychological well-being. One analysis of many studies found a strong link between weight gain and bipolar disorder. Other researchers found that exercise helps counteract the weight gain that's a side effect of many medications for treating bipolar disorder.

For those of us living with bipolar disorder, exercise not only increases the length and quality of sleep but also has a positive impact on depressive symptoms and takes the edge off mania. Another literature review found that patients with mood disorders have an increased risk for type 2 diabetes and that some atypical antipsychotics, such as Zyprexa (olanzapine), increase risk for diabetes and weight gain. Exercise could stave off some of these symptoms related to both the disorder and the medications. However, the ups and downs of bipolar disorder sometimes interfere with our best intentions to keep on track with an exercise program.

How much you move your body often signifies your mood. For example, you may be more active when hypomanic or manic, and less likely to move when depressed. If you make moving your body a part of your daily routine, you may find that, even when you're depressed, exercise may be the one thing you complete that day, which is at least one thing you can feel good about. When you're manic, exercise will take the edge off, release some of your excess energy, and help you concentrate.