If you have bipolar disorder, it's a good idea to keep a more detailed sleep log than simply recording your number of sleep hours. The following log is one way of doing this. To complete this action step, you'll need a clock next to your bed. Follow the instructions below. Fill out the log every morning.

1. Make a table with eight columns.
2. Write the day and the date.
3. The first night you start monitoring your sleep, record the time you got into your bed.
4. The next morning record the time you fell asleep the night before. (Make an estimate, because you probably won't accurately know this time within more than fifteen minutes to a half hour.)
5. Then record the number of times you awoke on the previous night. Be sure to keep a pen and your binder by the bed so you can scribble the times of your waking and sleeping episodes during the night.
6. Record the time you awoke to begin your day in the morning.
7. Calculate the number of hours you slept by subtracting all the time you were awake from the time you were asleep.
8. Next, record the quality of your sleep on a scale of 0 to 10, with 0 meaning that you had a peaceful night and 10 representing a night in which you had nightmares, tossed and turned, and woke several times during the night.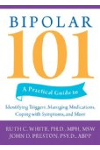 Continue Learning about Living With Bipolar Disorder