To deal with the risk of rejection and stigmatization because of bipolar disorder, talk to your mental healthcare provider about strategies that might work for you. You can also consult online resources, such as the National Alliance on Mental Illness and the Depression and Bipolar Support Alliance. If you experience rejection or negative emotions when telling someone, here are a few ways to respond:

- "I understand that this is a difficult thing to hear so I'll give you the time you need to get used to the idea."
- "I'm sorry you feel this way. If you ever want to talk more about it, I'm willing to have this conversation again and answer any questions you have."
- "I wasn't expecting this response from you, and although my feelings are hurt, I know that this is a difficult thing to hear about someone you love. If you have fears about this, I can give you some resources that may answer your questions."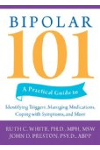 Continue Learning about Living With Bipolar Disorder