Many with bipolar disorder wait years to receive a correct diagnosis. Bipolar Disorder is often misdiagnosed as depression (because this is often the phase when they seek help), schizophrenia, other anxiety disorders, or borderline personality disorder. In younger children, the bipolar symptoms of inattention, impulsivity, and even hyperactivity overlap with those for attention deficit hyperactivity disorder (ADHD).
Most often, when people with bipolar disorder are misdiagnosed, they are diagnosed with unipolar depression. In one study, it was found that people with bipolar disorder waited an average of 9 years for a correct diagnosis. This has likely improved due to our increased awareness and understanding of bipolar disorder, but sometimes the illness is difficult to diagnose - especially bipolar II - because people tend to not report their hypomanic symptoms. Most people don't think to tell their doctor about the times when they're feeling really good!
Bipolar disorder can be misdiagnosed, especially as unipolar depression, because people often seek help when depressed and, unless they're asked about possible manic symptoms, that aspect of the illness might go untreated. Similarly, someone experiencing a manic episode may seek treatment and be diagnosed with attention-deficit disorder or attention-deficit/hyperactivity disorder. Some people with bipolar disorder attempt to self-medicate by using alcohol or drugs and may seek help for symptoms related to substance addiction.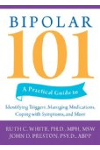 Continue Learning about Bipolar Disorder Diagnosis