Brisk walking is one of the best activities to start with, particularly if you've been sedentary for a long time. Walking is generally considered a perfect aerobic activity; it doesn't require any particular skills or talents; it provides adequate aerobic benefits; because one foot is always on the ground, walking is relatively easy on the joints; it doesn't require any special equipment except a decent pair of shoes; and you can walk just about anywhere, any time. There are few excuses not to walk, in fact, unless you're troubled by darkness, bad weather, or the fact that so many of our communities are oriented for automobiles and thus lack sidewalks or at least pleasant, unpolluted areas in which to stroll. But in this era of suburban megamalls, mall walking in the comfort and safety of a well-lit, dry, air-conditioned shopping complex removes even these barriers.
Walking works the major muscles of the legs and lower back and, to a lesser extent, the upper body, particularly if you swing your arms and carry light hand weights.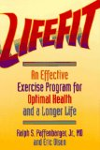 Aerobic exercise is great for your heart and lungs and will truly benefit your body. You will be able to increase flexibility, bone density, and strength around your bones and joints.
Brisk walking will force your body to work hard. The more intense the activity and the harder your body will work. That will result in more calories burnt and a greater overall effect on your body! Give it a try and see what you think, I believe you will be pleased with the results!
Continue Learning about Benefits of Walking