Visceral fat (the unhealthy fat that collects around the waistline) is an age maker and energy depleter -- it wreaks havoc on the liver and has been linked to a slew of health problems, including heart disease, diabetes, some forms of cancer, and a cluster of risk factors called metabolic syndrome, which increases the chance of developing these diseases. It should come as no surprise that the more visceral fat you have, the lower the amount of energy your body can create.

Visceral fat is not a problem just for overweight or obese people. You can be thin and still have visceral fat if you're not fit. Because visceral fat is the most dangerous kind of fat, doctors have grown more concerned about waist size than the number on the scale, which can be very deceiving. While abdominal fat is usually visible, visceral fat can be hidden deep inside an outwardly "thin" person. The same holds true for fat that can line blood vessels, restrict blood flow, and damage the cardiovascular system.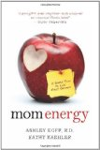 More About this Book
Mom Energy: A Simple Plan to Live Fully Charged
       From celebrated dietitian Ashley Koff and fitness trainer to the stars Kathy Kaehler comes Mom Energy, an exciting new way for moms to tap into their own natural and renewable sources of...
Continue Learning about Belly Fat