Prevention is the most natural treatment for back pain: exercise, staying in shape, maintaining a good weight, and being aware of your posture when you're standing, sitting, or doing your activities of daily living to help avoid overstressing your back.
There are a number of natural treatments for back pain that don't involve surgery or medications, although you should always consult with your doctor before initiating any therapy.

Your physician can assist in starting you on a physical therapy program, which can include massage, traction and light weights for strengthening.

Back pain is one of the most common reasons that people see a chiropractor. A doctor of chiropractic manipulates the soft tissues and can help with exercises and health counseling.

Acupuncture is another alternative treatment. It involves inserting sterilized stainless steel needles into the skin at specific points.

Yoga exercises provide relaxation and stretching techniques that can be very helpful for relieving stress, which can aggravate back problems.
Sitting for long periods of time can lead to terrible lower back pain. In this video, Dr. Oz shares how a "butt pillow" can take pressure off the nerves and relieve pain symptoms.
Medical physician pain specialist Dr. James Dillard discusses some natural treatments for back pain. Watch Dr. Dillard's video for tips and information on pain management and integrative medicine.
Watch as Dr. Andrea Pennington provides recommendations on natural treatments for back pain.
Continue Learning about Back Pain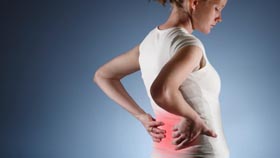 Just about everyone has experienced some level of back pain. It is one of the most common ailments brought on by disease, injury, or misalignment of the spine. It can be a dull muscle ache in the lower back or a severe, sharp pain ...
in that affects your ability to bend over or stand up straight. Most often back pain results from strained muscles and ligaments that surround the spine, but it can also be caused by structural problems with the bones of the spine. There are treatment options for back pain, and understanding the causes and symptoms is key to preventing it in the first place.
More