To prevent problems from sitting a lot, make sure your work surface is at a comfortable height for you. Use a chair with a good lower back support that may recline slightly. If you must sit for long periods, rest your feet on the floor or on a low stool, whichever is more comfortable. If you must drive long distances, use a pillow or a rolled-up towel behind the small of your back. Also, be sure to stop often and walk around for a few minutes.
Good question! How you sit is very important. Root evenly through your sit bones with your feet on a flat surface. Keep your shoulders wide and down your back, and stack them over your hips. This is hard to do for most of us! You can tuck a pillow under your tailbone to tilt your pelvis and lengthen your low back. I also recommend a foot stool if you can't get your feet to the floor. We wrapped duck tape around a phone book for my son's foot rest at his kindergarten desk. A tip we learned from his teacher that you can use as well!
Many people with back pain have jobs that require prolonged sitting. In most cases, these people are leaning or hunching forward over a desk, causing the curve in the lower back to straighten or reverse. Now, instead of the lower back transferring weight loads to the hips and into the seat, the lower back becomes the focal point of the load, and the strain builds relentlessly. There is only one stable sitting posture for the lower back, and this is with a forward lumbar curve.

If you spend significant time in a sitting position, then you have to either remember to keep the arch in your back or get a small pillow or lumbar cushion to keep it there for you. On long car or plane rides, it's best to place a small pillow or folded-up face towel in the small of your back, just above the waistline. This will help keep the forward arch in your back. Large lumbar cushions or internal lumbar supports in car seats don't fit everyone perfectly, and they are difficult or impossible to adjust. A small cushion works best because you can occasionally move it up or down and side to side to keep changing your position. Of course, the best thing you can do for prolonged sitting is to get up and move around. You will be greatly surprised how beneficial it can be to take two ten-second laps around your desk every half hour. Those twenty seconds of walking will more than make up for the loss of concentration and work productivity caused by the increased pain and stiffness that come from not walking. When it comes to either prolonged standing or prolonged sitting, remember to transfer your weight from side to side, and keep the arch in your lower back.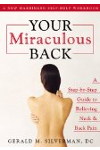 Continue Learning about Back Pain