How many epidural injections are given for lower back pain?
After an initial epidural injection for lower back pain, additional injections can be given for additional relief. Watch the video to learn more information on these injections.



Epidural Injections and Lower Back Pain
Spinal injections can help treat radiculopathy, the inflammation or damage to a nerve in the neck or lower back, and spinal stenosis, the gradual narrowing of the spinal canal.
Doctors also use injections for other types of back pain. Sometimes, they also use them to help find out what's causing the pain generation. These are called diagnostic blocks.
If the initial injection is effective for a patient with back pain, he or she may have up to three injections spaced two weeks apart in a 6 -12 month period. But it is up to your doctor to determine the frequency of such injections upon determining the right course of treatment, side effects from the medication used and any long-term impact of back injections on overall health.
Continue Learning about Back Pain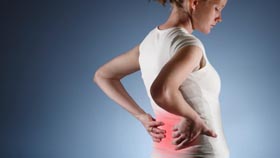 Just about everyone has experienced some level of back pain. It is one of the most common ailments brought on by disease, injury, or misalignment of the spine. It can be a dull muscle ache in the lower back or a severe, sharp pain ...
in that affects your ability to bend over or stand up straight. Most often back pain results from strained muscles and ligaments that surround the spine, but it can also be caused by structural problems with the bones of the spine. There are treatment options for back pain, and understanding the causes and symptoms is key to preventing it in the first place.
More