Absolutely. Osteoarthritis of the spine affects up to 27 million Americans. It is passed from one generation to the next and is more prevalent in women. Osteoarthritis of the spine is usually a result of wear and tear on the joint surfaces in this susceptible population. There are small joints in the spine called facet joints and these can become painful. NSAIDs can be sufficient in handling the early morning pain but sometimes an interventional pain physician will need to be consulted for more pinpoint diagnosis and intervene with pain relieving injections.
Arthritis is a risk factor for lower back pain. Watch the video to learn more about this risk factor for lower back pain.
Arthritis of the spine called degenerative disc disease (DDD) is an extremely common cause of back pain. The changes from DDD can cause pinching around the spinal cord or nerves that leave the spinal cord when severe.
Arthritis is only one possible cause for lower back pain, and it is important to have an accurate diagnosis before treatment can begin. If you have lower back pain, be sure to see a physician who specializes in back pain.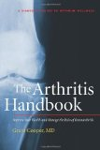 Continue Learning about Back Pain