To understand a baby's brain development, it helps to take a look at something called "critical periods." As the name implies, the learning that happens during these sensitive developmental phases has long-lasting influence on future behaviors (and cannot be reversed later in life).

Nobody's quite sure how long the critical periods in a baby's brain development last, but they most likely start in utero and continue through the first few months after birth. So even though it may appear that your newborn does nothing more than sleep, blink, and do a mighty fine job of transporting milk to diaper, there's a heck of a lot more going on.

So go ahead and talk to yourself (positively, even loudly if you want) when you're pregnant to establish that voice bond early on, and expose your infant to all kinds of stimuli (visual and auditory) in utero and after birth. Your kids may not remember those experiences consciously, but their neural circuitry will.

The capacity to process a language proficiently requires early exposure to the language, and the capacity to form strong social relationships and manage stress requires early (and positive) interactions with a primary nurturer. Of course, babies may have predispositions to certain talents, traits, and emotions given their genetic makeup, but early exposure—or lack of exposure—to various stimuli can influence whether that predisposition is accentuated or diminished.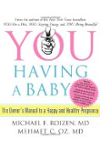 Continue Learning about Baby Development