The influence of emotional states on pulmonary functioning in asthma has been studied extensively. Findings indicate that airways are reactive to psychological states and this is corroborated by personal retrospective accounts that suggest that changes in emotional states result in asthma exacerbations.

In many patients, treatment for a mental disorder can create an improvement in their overall medical condition, contributing to a better quality of life and allow the person to adhere to treatment plans, life-style changes and physical limitations.
Emotional stress has long been linked to asthma. Traditional Chinese medicine recognizes a connection between the lungs and grief, a linkage borne out by modern psychology. Recent studies have found greater anxiety and depression among asthma patients than other people, including those who suffer from a number of other chronic diseases.

With apologies to people with food allergies, there's a chicken-or-egg element to this discussion. Namely, do asthma patients have anxiety and depression because of their asthma, or do anxiety and depression predispose them to asthma symptoms? It may be a combination.

Undoubtedly, shortness of breath and heavy wheezing can be pretty anxiety producing. Conversely, intense emotions can bring also precipitate asthma symptoms. Respiratory resistance, airway reactivity, shortness of breath, and decreased peak expiratory flow rate have all been shown to occur after an emotional challenge.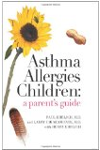 More About this Book
Asthma Allergies Children: A Parent's Guide
Asthma and allergies are at epidemic proportions. It doesn't have to be that way. Two experienced pediatric allergists tell everything a conscientious parent needs to know about these conditions,...