Arginine is an amino acid that plays an important role in wound healing, detoxification reactions, immune functions, and promoting the secretion of several hormones, including insulin and growth hormone. Recently there has been considerable scientific investigation regarding arginine's role in the formation of nitric oxide. This compound plays a central role in determining the tone of blood vessels. Specifically, it exerts a relaxing effect on blood vessels, thereby improving blood flow. Normally, the body makes enough arginine, even when the diet is lacking. However, in some instances, the body may not be able to keep up with increased requirements and supplementation may prove useful. Foods high in arginine are chocolate, peanuts, seeds, and nuts such as almonds and walnuts.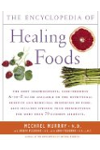 More About this Book
Encyclopedia of Healing Foods
From the bestselling authors of The Encyclopedia of Natural Medicine, the most comprehensive and practical guide available to the nutritional benefits and medicinal properties of virtually everything...
Continue Learning about Arginine