How is appendicitis treated?
Appendicitis is usually treated by surgically removing the appendix as soon as possible (appendectomy). Because sometimes the diagnosis is not certain, the patient's condition will be carefully monitored for six to 12 hours before operating, and patients are also given antibiotics to fight infection. Sometimes appendicitis does not need to be treated with surgery and the treatment is just a strong course of antibiotics.
Problems and complications from the procedure are rare, but all procedures have some risk. Your doctor will review potential problems such as bleeding, infection, other organ damage and reactions to anesthesia. Complications are more common in the elderly, but other risk factors are smoking, a ruptured appendix, obesity, diabetes, chronic lung or heart disease and pregnancy.
This content originally appeared on the HCA Virginia Physicians blog.
Specific treatment for appendicitis will be determined by your physician based on:
Your age, overall health, and medical history
Extent of the condition
Your tolerance of specific
medicines, procedures, or therapies
Expectations for the course of the condition
Your opinion or preference
Because of the likelihood of the appendix rupturing and causing a severe, life-threatening infection, physicians will recommend that the appendix be removed with an operation.
When the appendix, a small tube of tissue at the beginning of the large intestine, becomes blocked and inflamed, it must be surgically removed. Appendicitis is a medical emergency. Watch Dr. Oz discuss appendicitis.


Acute appendicitis is usually treated with appendectomy. In some circumstances, the appendix has perforated with a walled-off infection adjacent to it, and surgery may not be necessary. Most operations for acute appendicitis can be accomplished laparoscopically, and patients usually are discharged the next day.
Some have recently suggested that appendicitis can be treated with antibiotics alone, without surgery. However, results of this approach have not been perfect, and a significant number of patients still require surgery for this disease. Since the risk profile of laparoscopic appendectomy is fairly low, surgery is usually recommended.
Patients with appendicitis usually have surgery to remove their appendix. In some cases, it may be safe to use antibiotics as a first-line treatment instead.
Some studies have shown that patients treated with antibiotics were at no increased risk of their appendix bursting compared to those who underwent surgery.
However, patients with complicated appendicitis — in which the appendix has burst, or the lining of the abdominal cavity is swollen and infected — should still be treated with surgery. Surgery remains the best option for preventing further serious complications from appendicitis.
Appendicitis is traditionally treated by removing the appendix, but early cases can be treated with antibiotics, according to Kelly Kogut, MD, in pediatric general surgery at Sunrise Children's Hospital. Learn more in this video.
How Is Appendicitis Treated?
Continue Learning about Appendicitis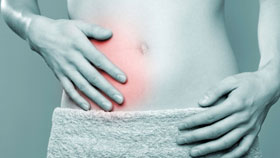 Appendicitis is an inflammation of the appendix, a small tube that is attached to the beginning of the large intestine. Learn more from our experts on appendicitis.