There are many types of flavonoids, and their concentration in specific foods varies greatly, depending on how a product is grown and processed. So use the list below as a general guideline for foods that tend to be rich in flavonoids. Eating a diverse diet that regularly includes some of the following foods will provide you with a healthy helping of flavonoids:
Apples (flavonoids are in the skin)
Blueberries
Broccoli
Cabbage
Capers
Chocolate (dark, not milk) and cocoa
Onions
Strawberries
Red grapes
Red wine
Tea (all kinds)
What foods are good sources of flavonoids? 312 Flavonoids help you fight arterial and immune aging and are plentiful in cranberries, cranberry juice, tea, tomatoes, apples, applesauce, strawberries, broccoli, onions, red wine, and the more colorful fruits and vegetables. Thirty-one milligrams a day makes your RealAge (physiologic age) substantially younger.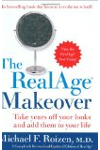 Continue Learning about Antioxidants