The carotenes are a highly colored group of fat-soluble plant pigments ranging from red to violet in hue. All organisms, whether bacteria or plants, which rely on the sun for energy, contain carotene molecules. Due to their antioxidant effects, carotenes play a crucial role in protecting organisms against damage during the process of photosynthesis, the process that converts sunlight into chemical energy.

In humans, carotenes play two primary roles: some are converted into vitamin A, while the others exert antioxidant activity. Of the 600 carotenes that have been identified, about 30 to 50 are believed to have vitamin A activity. Carotenes that the body is able to convert to vitamin A are referred to as "provitamin A" carotenes. The best known of this group are beta-and alpha-carotenes. Some of the better-known carotenes, without provitamin A activity but with very high antioxidant activity, are lutein, lycopene, and zeaxanthin.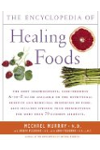 More About this Book
Encyclopedia of Healing Foods
From the bestselling authors of The Encyclopedia of Natural Medicine, the most comprehensive and practical guide available to the nutritional benefits and medicinal properties of virtually everything...
Continue Learning about Antioxidants