Paxil (paroxetine) can help to treat premature ejaculation (PE). Paxil is prescribed "off label" by physicians, which means that the medication is typically used to treat another condition. Below is a brief list of some things you may need to know about the drug:

• Type: selective serotonin reuptake inhibitor

• Typical dose: 20 milligrams per day

• Side effects: nausea, headache, sleepiness, dry mouth, dizziness

• What to expect: may take 3 to 6 weeks to see benefits for PE; must be taken every day

Should be used with caution by men with liver or kidney disease, bipolar disorder, bleeding disorders, or glaucoma or who have recently had a heart attack

Notes: May interact with the anti-seizure drug phenobarbital, warfarin (Coumadin), alcohol, and some other antidepressants.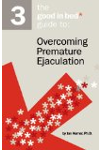 Continue Learning about Antidepressant