When your child is coughing, sneezing, and downright miserable, the temptation is there to request antibiotics: Just give me something that will help her feel better, Doc. The fact is that 90 percent of colds are from viruses, not bacteria.
Antibiotics generally kill bacteria, not viruses, so nine times out of ten, that medicine will do nothing to help kill the offending invader. But that's not the most serious reason why prescribing an antibiotic for a virus is so bad. Unnecessary use of antibiotics increases the chances that bacteria will get used to them and eventually become resistant to the drugs. That increases the odds that super bugs (like MRSA, or methicillin-resistant Staphylococcus aureus) will spread, and these resistant strains can be especially dangerous because they are untreatable by common antibiotics.
So here's a case where you need to really follow your doc's lead, and if she says your child has a virus that needs to run its course and can't be treated with antibiotics, then do the other things to make her feel better until that course is indeed run.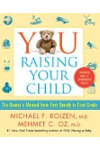 Continue Learning about Antibiotic