Advair is a combination of Flovent and Serevent. Symbicort has as a bronchodilator, Foradil, and as an anti-swelling agent, Pulmicort. Both do pretty much the same job. Symbicort works fast; Advair comes as a powder and may be easier to take. Both are more convenient than taking their components separately.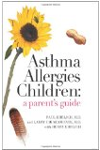 More About this Book
Asthma Allergies Children: A Parent's Guide
Asthma and allergies are at epidemic proportions. It doesn't have to be that way. Two experienced pediatric allergists tell everything a conscientious parent needs to know about these conditions,...
Continue Learning about Antiasthma